Adventure is my word of the week!
OK, so I was looking at the #BEDM hashtag on twitter, and I came across a post which I can't find now that introduced me to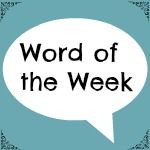 The Reading Residence Word of the week meme, and I thought I would use my second BEDM post to play along.
Adventure is the topic for today, and I have a reason for making it my word of the week. I'm trying several new things right now, including live streaming and this challenge. I'm also using my phone to take pictures, which is something new for me. So, I guess I have to ask the question, "what does adventure mean to me? Well, to me it just means doing something you haven't done before, trying a new food and/or restaurant, etc. It can also involve thrill-seeking activities, like skydiving or bungee jumping, both of which I have participated in. I call this blog "Life's Everyday adventures!" because I pretty much blog about everything here, from new things I'm doing, to trips to the grocery store. My linkblog is called "My Web Adventures!" because I link to interesting articles and/or sights that I stumble across while finding them on the web, I very much enjoy web surfing, and I definitely consider my trips through Twitter, Reddit, and sometimes other places to be adventures.
By the way, I'm also enjoying reading other BEDM participants blogs, I do return your comments here, but I don't have jetpack installed, (I really don't like the thing!) so I probably need to find me a subscribe to comments plugin that isn't affiliated with jetpack.
2 comments